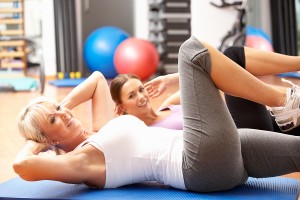 All of our training takes place in our clients' home, office or a local park – we come to you. We provide all of the equipment you will need for a great workout in an environment where you feel most comfortable. No travel time. No excuses. Let's Go!
Whatever your health and fitness goals – happy and healthy, fit and fabulous or lean and mean! We will provide you with a personalized health & fitness solution for you and your lifestyle. We will create a training program which is suitable for your fitness level today, and progress to where you want to be.We will support you with this challenge and we'll have a laugh and some fun along the way! You can do it. We will help you.
Regardless of where you are today with your health and fitness, whether you want to lose 5lbs and tone up or you need to lose 100lbs, the principles of achieving your goals are the same. We need to figure out what will work for you and work towards your goals one step at a time. We will help you identify and maximize your strengths and good habits, while we work on your weaknesses and minimizing and changing bad habits. In other words, we look at what is working for you and use it, and we find out what is holding you back and work at it!
We use a combination of cardio, resistance training, high intensity intervals and a bit of lifestyle evaluation to get you where you need to be. We provide all of the equipment, although if you have some equipment in your home which you would like us to incorporate into your program, that is fine with us!
Our goal is to train you during our sessions and provide you with the tools to help you get your additional workouts in when we are not there and stay on track with your nutrition. This includes access to our Walk With Power and Power Sculpt Classes, nutrition and lifestyle tips for good health and fitness and email and phone support.
Our Personal & Group Training Packages Are Great Value! Here's Why:
PERSONAL TRAINING

GROUP TRAINING

FREE Walk With Power & Power Sculpt Classes! Burn plenty of calories between sessions & Stay On Track!

We come to you saving you valuable time!!

We provide loads of extra support via phone/email to ensure help you get great results!

Just $10 per group member on top of our Personal Training Rates.
Save 40% to 60% on Personal Training Rates with a Group of 2 to 4.
DISCOUNTED RATES on Walk With Power & Power Sculpt Classes! Burn plenty of calories between sessions & Stay On Track!
| | |
| --- | --- |
| FREE Consultation | Sign Up |
| $10 Trial Group Training Session | |
BURN IT OFF TRAINING FOR SMALL GROUPS
Training with a friend or family is a great way to receive the benefits of having a trainer with less expense. Working with a friend with common goals is a great way to keep you both motivated and accountable and maximize your results.
Great ideas for group training to get you moving and get results!!
Sign yourself and your friends up for a 5K, a 10K, a Triathlon (Sprint or Olympic Distance), Half Marathon or Mud Run! We put a great program together for you to get you across the finish line!
Hire a trainer for your whole family! Mom, Dad and the Kids. While Burn It Off's clientele are mainly women, we are qualified and experienced in training men (as long as they are not lifting super heavy weights/bodybuilding), young adults and kids. We can help school children with speed and agility training for sports.
Can't get a sitter for the kids? We train you in your home, so get the girls and the kids together and we'll set up a circuit so you can take turns watching the kids at intervals during a kick butt workout! (PS: Use the kids as lovely little human weights! Ever done a squat holding a toddler? Talk about a great butt and thigh workout! Burn baby burn!!)
Does your pooch need a workout too? Get your dog-loving friends together and let's get moving!
Does your husband get together with the boys for golf/hikes/poker? Don't let the guys have all the fun! Get the wives together for a catch up and a fun workout!
There are SO many ways to get fit and really enjoy it, especially when you get your friends involved!! Use your imagination! We love to make your workouts fun.
Have a group of girls you regularly catch up with to splurge on sweet treats and get them together for a workout to BURN IT OFF!!
| | |
| --- | --- |
| FREE Consultation | Sign Up |
| $10 Trial Group Training Session | |
INSTRUCTOR FOR HIRE – LARGER GROUPS & CORPORATE
Want to start a fitness program in your office? Want a fitness instructor to lead classes at a corporate retreat?
Give us a call to discuss programs, participant numbers and rates.